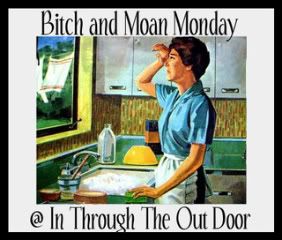 Ya know, LDs, I'm feeling surprisingly good today. It was a very busy day for me. As far as it being Bitch and Moan Monday...
I'm not going to comment on the passing of the Health Care Bill. There will inevitably be someone I offend, and whilst I normally don't care, my mumsy made an incredibly good point this evening on the phone.
"I make less than $15,000 a year. Everyone's going to be required to have health care, and if you don't, you'll be fined. How in the blue fuck (a.n. - yeah, she said that) am I supposed to afford the fines if I can't afford the plan?"
I was in a heated discussion this afternoon on FB with people I knew from college, and I seemed to be right in the middle of an both an extreme Liberal and an equally extreme Conservative (I think I contemplated hari kari at one point; it got that heated). I'm a bit confused on the whole point. I have health insurance through work. Does that mean I still have to buy into the government's plan?
Sorry, Kish. There's not much I want to B&M about today.
O! When I got home from PT, Mr Realist had emptied the dishwasher and refilled it! Yay!
Heepwah, and be safe out there.