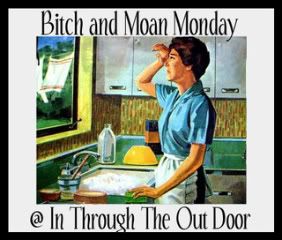 Hey there, LDs! How are you on this fine Monday? I mean...erm...damn. This is supposed to be Bitch and Moan Monday, not "Let's Be Cheerful on Crack Monday."
Sigh. O well. Here we go.
Ya know, there are some things that I'd like to Bitch about, and some I'd like to Moan about (and not that kind of moaning...that's a later post. Maybe TTPN...he he he).
~Ya know, Mr Realist, would it kill you to start the dishwasher that I filled and the laminated sheet of paper that is magnetically attached to the front of said dishwasher that states the dishes are dirty BEFORE you go watch the sex and blood and full-frontal nudity that is Spartacus? Seriously?
~I'm beginning to think I'm no good at this Pampered Chef thing. Can't get a Show booked to save my life. If everyone would be content doing Catalog Shows? Fan-freaking-tabulous. What do I have to do - whore myself out as 'your personal chef for the evening' or have hubs do a Manpered Chef party (on the grill, of course)...hey...waitaminit...bitch just turned idea!
~I just want to throw everything I own away. I'm tired of looking at it. Of course, the moment the garbageman pulls away, I'll need half of what's in the bags.
~I don't have near enough time to do everything I want (who does?).
~I should be writing (my book, LDs), but I'm not...still processing.
~I would love to hire a housecleaner, but right now, I don't have the extra $100 a month to hire one. Boo.
~I want a solitary vacation. Drive somewhere, stay with friends, but go and do and see whilst they're at work.
On a positive note, Mr Realist found a book over the weekend that he's actually reading (he hates to read. Think he's only read two actual books cover to cover in his entire life). It's a book of Darwin Awards (and they're good).
Well, since they're not that bitchy/moany, I'll leave you, my little LDs, to find what you want to bitch and moan about.
PS~If anyone has any more ideas to whore my TPC self out, they'd be much appreciated! :)